What is Mānuka honey?
New Zealand mānuka honey is produced by bees collecting nectar from the mānuka plant (Leptospermum scoparium), can be found growing throughout New Zealand.
Mānuka honey is a premium product that's growing steadily as a high-value export for New Zealand.
Making sure it's authentic NZ Mānuka honey
In December 2017, the Ministry for Primary Industries (MPI) finalised a robust and sophisticated scientific definition that can be used to authenticate whether or not a particular honey is New Zealand mānuka honey. Aims of the science definition for mānuka honey regulated by the MPI are to;
* that overseas regulators have confidence in the assurances we give them about New Zealand mānuka honey, and
*  consumers in import countries are confident they're getting genuine mānuka honey.
Tests to authenticate Mānuka honey
The mānuka honey definition is made up of a combination of 5 attributes (4 chemicals from nectar and 1 DNA marker from mānuka pollen).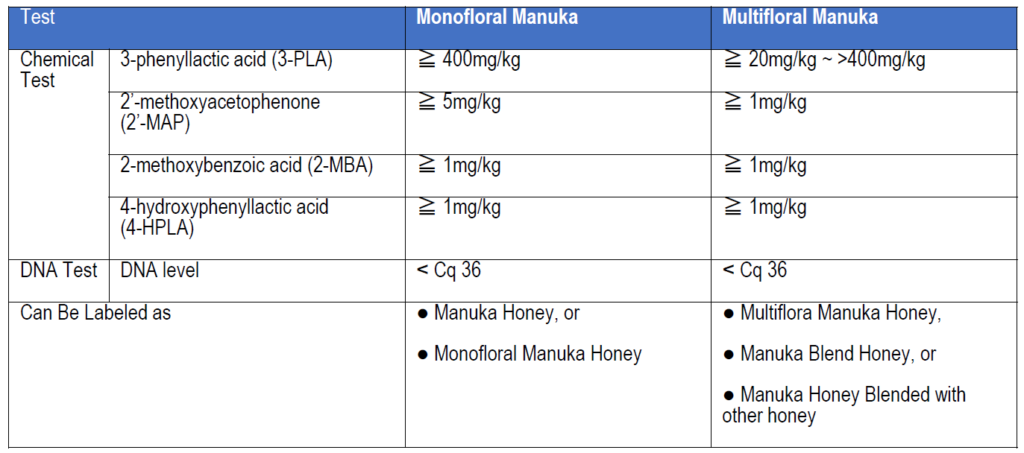 AVAILABLE TO USE MGO / UMF GRADING SYSTEM WITH THE DEFINITION
MPI has agreed that unless markets require otherwise, grading systems can continue to be used on honey labels, provided that there is evidence to substantiate the grade or claim, and that all other labelling requirements are met.
EXPORT CERTIFICATE OF MANUKA HONEY FOR EXPORT HAS TO BE WITH DEFINITION TEST RESULTS
As new export requirement is on effect, manuka honey export to countries requiring office assurances has to includes validated laboratory test results
proving that each batch of honey in a consignment is monofloral or multifloral manuka with exact honey type statement on the export certificate.
At Natural Farm Group
We are fully support our customer to keep your export / import business is going with confidence on this change.
We ensure to present manuka definition test results certified by MPI-recognised laboratories, Analytica Loboratories and Hill Laboratories, along with manuka grading test results
per batch processed at our factory. We are always welcome to discuss with our export customers in regards to your product itself or your manuka honey label changes as following this new export requirements.
If you have any question about this new Manuka honey export regulations, please contact us to discuss further.
(Source from https://www.mpi.govt.nz/growing-and-harvesting/honey-and-bees/manuka-honey/)